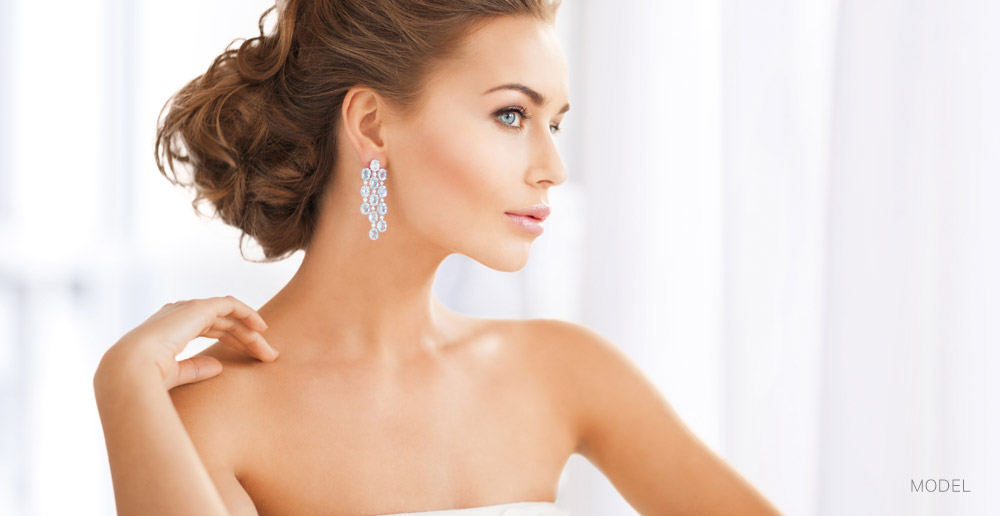 Over time, you may notice physical changes that age the appearance of your face. Your features may lose some of their youthful fullness and supporting facial fat may migrate downward, causing the skin to sag. Fine lines and wrinkles may also form along your brow, near your eyes, and around your lips.
Dr. Vu can treat Huntington Beach and Orange County patients with a variety of dermal fillers to restore the fullness that they have lost and to create a younger, more rested appearance. His offerings include the full line of JUVÉDERM products and many others. Dermal fillers provide aesthetic improvement without surgical intervention, and their benefits can last for months. With this approach, Dr. Vu can address features such as:
Tear troughs below the lower eyelids.
Sagging or flattened cheeks.
Laugh lines, which run from the nose to the corner of the mouth.
Marionette lines, which go from the corners of the mouth down along the chin.
Vertical lines above and below the lips.
Aging hands that have taken on a thin, bony appearance.
Explore the different products available through the practice, and learn about Dr. Vu's approach to treatment. He will perform a thorough examination of the area in question and will make recommendations on products to use for your needs and preferences.
---
What is JUVÉDERM?
JUVÉDERM is a family of dermal filler products from ALLERGAN™. Dr. Vu recommends different options in the collection to Huntington Beach and Orange County patients based on their aesthetic concerns, as each dermal filler varies in its consistency and purpose. A product with more firmness can give features like the cheeks and hands greater architectural support and can help in treating deep wrinkles. Fillers with a softer consistency can provide a more natural feel in areas such as the lips.
JUVÉDERM VOLLURE™ XC
JUVÉDERM VOLLURE™ XC can be effective in reducing the appearance of moderate to severe lines. Dr. Vu uses this solution to combat laugh lines, marionette lines, and other wrinkles that form around the nose and mouth.
JUVÉDERM VOLBELLA® XC
JUVÉDERM VOLBELLA® XC is a great option if your lips have thinned out over time. You may also benefit from treatment if you have developed vertical lines above and below your lips, which is commonly the result of aging, smoking, and frequent lip pursing.
JUVÉDERM VOLUMA® XC
JUVÉDERM VOLUMA® XC is designed to restore fullness to the cheeks. Over time, these features tend to flatten and sag. Dr. Vu injects JUVÉDERM VOLUMA to correct this loss of volume and to give patients a younger appearance.
Brilliant Distinctions®
The Brilliant Distinctions® program is another reason to consider JUVÉDERM's dermal fillers. Dr. Vu's practice participates in Brilliant Distinctions to reward Huntington Beach and Orange County patients who use JUVÉDERM and other ALLERGAN® products with significant savings on their treatment. If you are interested in exploring the program, ask Dr. Vu and his staff about how to get started.
---
JUVÉDERM Before & After Photos


View Our JUVÉDERM Gallery
---
Non-JUVÉDERM Dermal Fillers
BellafilL
Smile lines that have deepened significantly over time may benefit from treatment with Bellafill®. This dermal filler has a different formulation than JUVÉDERM's line of products, employing tiny microspheres in a smooth collagen gel base. By using this treatment, Dr. Vu can immediately decrease the visibility of smile lines, and Huntington Beach and Orange County patients can expect further improvement over time as the body develops natural collagen in the treatment sites.
Bellafill® also differs from JUVÉDERM because of its longevity, with effects that can last up to five years. Dr. Vu can use Bellafill for Huntington Beach and Orange County patients who want to limit their retreatment appointments and enjoy longer-lasting benefits. He follows a conservative approach in all aspects of care, and so he will conduct a skin test beforehand to ensure that you are a good candidate.
BELOTERO BALANCE
Like JUVÉDERM VOLLURE, BELOTERO BALANCE® is an injectable treatment that can temporarily fill in moderate to severe smile lines. It offers a natural feel and texture and, like other dermal fillers, requires no downtime after treatment.
Dr. Vu also uses BELOTERO BALANCE to fill in fine facial lines. Injecting these lines superficially on the skin's surface can give you a younger, smoother appearance.
Lip Fillers Before & After Photos


View Our Lip Fillers Gallery
RADIESSE
RADIESSE® is an FDA-approved dermal filler that can help smooth facial wrinkles and folds by increasing the natural collagen stimulation helping to bring long-lasting results. Dr. Vu recommends RADIESSE for patients looking to increase the volume in areas such as facial lines, nasolabial folds, and even in the back of your hands.
RADIESSE Before & After Photos


View Our RADIESSE Injection Gallery
RENUVA
RENUVA® is a newer, recently FDA-approved, filler product that is derived from human fat cells. Any lurking tissue has been removed from the product and only the fat matrix and growth factors are used for injection. Studies have shown that RENUVA may help regenerate fat cells in areas that require volume replacement.
Dr. Vu uses RENUVA to treat small-volume irregularities for Huntington Beach and Orange County patients, such as minor divots and depressions in the skin. These small marks, when taken together, can create a less aesthetic appearance. Some of the common sites that Dr. Vu injects RENUVA are in areas of loss around the temples, cheeks, and hands.
---
What Should I Expect With Dermal Fillers?
If you have noticed age-related volume loss or the development of lines and wrinkles and you are interested in a non-surgical solution, start with a consultation at our offices. Dr. Vu will spend extensive time with you learning about your concerns and your goals, and he will recommend an approach to address your needs.
Treatment with JUVÉDERM and the other dermal fillers that our practice offers is gentle, precise, and efficient:
Vu will perform your injections himself. You can have confidence in the care you will receive based on his 20-plus years of experience as a board-certified plastic surgeon.
Our Huntington Beach and Orange County patients do not typically need an anesthetic, but we can help you ice and desensitize the treatment area.
Most of the dermal fillers we offer, including all of the JUVÉDERM products, are mixed with lidocaine, which should numb the site and make your experience more comfortable.
If you are having injections around the lips, we can provide a dental block to desensitize the locations that Dr. Vu will be treating.
Dr. Vu always strives to balance natural refinement and softness. He believes that it is perfectly acceptable to start conservatively then add as the need arises.
With follow-ups, he can determine whether to use more filler in future treatments, which features to target and if a different product will provide more noticeable improvement. This approach allows him to fine-tune his technique to the individual.
There is no downtime other than possible bruising and/or swelling following a visit for dermal fillers, though Dr. Vu does recommend that Huntington Beach and Orange County patients not exert themselves for about one day after their procedure. As the benefits of the dermal fillers fade over time, you can return to the practice for retreatment.
---
Rejuvenate Your Face with dermal fillers in orange county
Dermal fillers like JUVÉDERM can rejuvenate the features of your face and hands in a natural-looking and non-invasive way. Schedule an appointment with Dr. Vu in Huntington Beach and Orange County online or by calling (714) 848-1133.