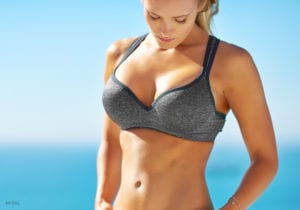 Every year, hundreds of Huntington Beach women have babies. And we all know what that means. Beyond having cute little bundles of joy, these women experience swelling bellies that often stubbornly refuse to snap back into shape, despite a new mother's diligence at eating right and exercising after the baby has come.
A tummy tuck, also known as abdominoplasty, can help benefit new Huntington Beach moms in the following ways, helping them to regain their pre-pregnancy bodies:
Repair Separated Abdominal Muscles
One of the most common side effects of pregnancy is separated abdominal muscles – when the muscles that comprise the abdominal wall become disconnected. Some women experience a 1-inch or more separation in their muscles, despite their best efforts at dieting and exercising.
Often, surgical intervention is the only thing that can be done to help a Huntington Beach mom tighten up her loose abdominal muscles. With surgery, Dr. Vu can repair the separated muscles, eliminate the bulge that often appears when they are separated. This muscle plication will slim the waistline.
eliminate loose abdominal skin
Despite eating healthy during pregnancy, you're still going to get an enlarged abdomen. After all, that's where your unborn child is growing! However, some Huntington Beach women don't have the skin laxity to allow their bellies to "snap back" after pregnancy, even if they do eat a healthy diet and exercise after they've had their children. This problem leaves some women with loose skin or a large amount of skin hanging in the lower stomach.
One of the benefits of abdominoplasty after pregnancy is that it allows Dr. Vu to excise loose, sagging skin in the belly that just won't go away. For the best possible results, postpartum mothers should be at or near their ideal weight before undergoing surgery.
Feel Comfortable In A Bikini
What better place to bring your new baby than to the beach! But if you've just had a baby, you might not feel like putting on that itsy-bitsy bikini you used to wear before you had kids.
One of the biggest benefits that abdominoplasty gives new mothers is confidence. By feeling like you recognize and "belong" in your post-baby body, you'll feel ready to hit the beach with your little one any time of the year!
Learn More About Tummy Tuck Surgery for New Moms
If you're a new mom who's ready to reclaim her pre-baby body, then a trip to visit plastic surgeon, Dr. Vu, at California Aesthetic Center is in order! During this appointment, Dr. Vu will examine your abdomen, record your exercise routine and diet, and listen to your concerns and desired appearance. Armed with this information, he can prepare a personalized surgical plan for you, answer any questions you have, and share his anticipated results for your elective abdominoplasty surgery.
If you're ready to have a post-baby flat abdomen, the first step is calling Dr. Vu. To schedule an appointment with him at California Aesthetic Center in Huntington Beach, call the plastic surgery practice today at (714) 848-1133.