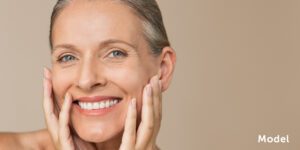 Over time, you may notice that your face does not look quite as taut or as youthful as it used to. Specifically, you may notice that your skin is sagging in unwanted places, that you have lost volume, or that your wrinkles and fine lines are increasingly prominent.
There are several ways these visible signs of age can be addressed, including through surgical procedures. A facelift is a common option for patients who wish to look and feel younger. While facelifts are not for everyone, they certainly carry many benefits and are worth considering.
What is a Facelift?
A facelift is a plastic surgical procedure meant to pull the skin and muscles tighter, eliminate sagging skin, smoothing over wrinkles, and reposition the facial features for a more radiant feel.
The specifics of the facelift can vary from patient to patient, simply depending on particular needs and goals. Generally speaking, the procedure involves a few strategically placed incisions (often located behind the ears and/or behind the hairline), through which the surgeon can remove excess tissue, pull the remaining tissue tight, and gently correct any additional problems with facial anatomy. 
Facelifts are considered fairly major surgery, and will require several weeks to fully recover. With that said, anesthesia ensures that facelifts are as comfortable as possible, and the results typically last for a decade or more.
---
5 Reasons to Consider a Facelift
There are many specific benefits to getting a facelift. Here are five examples of the most popular:     
1) Facelifts reduce the visible signs of aging.
As we get older, the natural aging process results in many changes to our physical appearance. These effects can sometimes be exacerbated by prolonged exposure to the sun or other lifestyle factors. These signs of the aging process can include deep wrinkles and creases, sagging skin, and even the dreaded "double chin."
While all of these signs of age can be treated individually, facelifts can target all of them at once, leaving you with an altogether younger-looking appearance.
2) Getting a facelift can help you repair loose skin.
One of the natural effects of aging is that our collagen production diminishes. Collagen is what gives your skin its elasticity, which means that a decline in collagen typically means looser, flabbier, or more saggy-looking skin. This sagging skin can contribute to jowling, a double chin, or even loose skin around your neck.
In a facelift procedure, your surgeon will remove any excess tissue and pull the remaining skin and muscle tight. This will restore you to a much younger look.
3) Facelifts tighten the facial muscles.
There are a number of ways in which getting a facelift can help reduce the appearance of sagginess or flab. In addition to eliminating extra skin, your facelift will include tightening the muscles. This can go a long way toward natural-looking and sustainable results, and a more chiseled and youthful facial appearance.
4) A facelift will better define your facial contours.
One of the effects of sagging skin is a loss of clearly defined contours. Getting a facelift can correct this problem, providing sharper lines and greater clarity to your facial features, including your jawline and chin.
5) Getting a facelift can bolster your self-confidence.
A facelift can transform the way you look, but more importantly, it can change the way you think about yourself. If you have despaired over the mounting signs of age that compromise your physical appearance, a facelift may be just the boost you need for your self-esteem. In the process, getting a facelift can positively impact your romantic life, your professional fortunes, and more.
---
Who is a Good Candidate for a Facelift?
If you are eager to learn more about the benefits of a facelift or to determine whether this procedure is right for you, the next step is to schedule a consultation with a plastic surgeon. Your surgeon will assess your physical health, discuss your aesthetic goals, and verify that you are eligible for a safe and successful procedure.
Generally speaking, the best candidates for a facelift:
Do not smoke.

Do not have any physical health conditions that could impede healing.

Have realistic expectations.

Have talked with a plastic surgeon about what the procedure and recovery will entail.
To schedule a consultation with a plastic surgeon in Orange County, California, we welcome you to contact our office today. Schedule an appointment with Dr. Vu at your convenience.