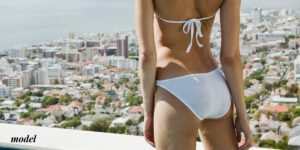 While diet and exercise can help to improve the appearance of your back, they may not always be enough to eliminate stubborn fat. In these cases, liposuction can be an effective solution for contouring and reshaping your back.
What is Liposuction?
Liposuction involves the removal of excess fat from specific areas of the body, including the abdomen, thighs, buttocks, arms, and often the back. During the procedure, your surgeon will make a small incision, and insert a thin tube, called a cannula. The cannula suctions out the excess fat, creating a more contoured and shapely appearance.
---
Why Use Liposuction to Contour My Back?
One of the benefits of liposuction for back contouring is that it can be customized to meet your specific needs and goals. You can undergo the procedure to achieve a slimmer shape, present a more toned and sculpted appearance, or reshape and define the muscles in the back. Whatever your goal, your surgeon will work with you to determine the best approach for your body – considering your individual anatomy and the amount of fat that needs removal.
---
What to Expect After the Procedure
After the procedure, you will need to wear a compression garment to help reduce swelling and support the treated area as it heals. You should also follow any post-surgery instructions provided by your surgeon, including taking certain medications, avoiding strenuous activities, and attending follow-up appointments.
Recovery from liposuction may vary, but most people can return to work and other normal activities within a few days to a week. Full recovery can take several weeks, during which time you may experience some swelling, bruising, and discomfort. Your surgeon will provide specific instructions for caring for the treated area and managing any side effects.
---
Maintaining Your Results
It's important to note that liposuction is not a weight loss procedure, and it's best suited for individuals who are at or near their ideal weight but have stubborn pockets of fat that they would like to address. Post-surgery, creating a healthy lifestyle will be vital to maintaining and optimizing your results. 
Balancing diet and exercise will give your body what it needs to keep that unwanted fat at bay and keep you looking great.  
---
A More Confident You
Having confidence in yourself is key to feeling your absolute best, and liposuction can help you achieve the silhouette or sculpted appearance you desire. Before undergoing your procedure, it is important to consult with a qualified plastic surgeon and understand the potential risks and complications. For more information on liposuction and how it can help you achieve your desired results, visit our plastic surgery blog.