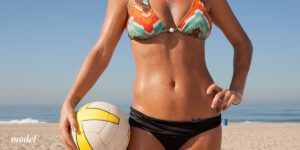 Losing a substantial amount of weight can be wonderful for your heart, joints, and the rest of your body. In many instances, however, people who lose a lot of weight rapidly have trouble with excess skin. If you have excess skin and want to get rid of it, there are some excellent body contouring cosmetic procedures that can help. 
Tummy Tuck
A tummy tuck, or abdominoplasty, is a surgical cosmetic procedure that can improve the shape and appearance of the abdomen. The procedure gets rid of excess skin and fat from the treatment area while also tightening the connective tissues. 
You can choose to have a traditional tummy tuck or a mini tummy tuck, which can get rid of sagging skin below the navel. Mini tummy tucks are faster than traditional ones. 
---
Lower Body Lift
If you have excess skin mainly in your lower body, like your buttocks, hips, thighs, or groin, a lower body lift can help you get the results you want. It is a procedure that combines two different surgeries – a tummy tuck and a thigh lift. 
The procedure involves making an incision from the back to the front of your thighs and the removal of excess skin and fat. The remaining tissue stretches over your lower body.
---
Upper Arm Lift
One of the areas where excess skin can be a nuisance after significant weight loss is the upper arms. An upper arm lift involves the removal of excess fat and skin by making an incision from the armpit to the elbow and repositioning tissues and skin. 
---
Panniculectomy
This type of surgery removes excess skin and fat from your lower abdomen. It is not a tummy tuck because it is not just an aesthetic procedure. 
A panniculectomy is the best choice for extreme cases of excess skin that might hang over your thighs and genitals. This degree of excess skin can be uncomfortable, cause back problems, and affect the way you look and feel.  
People who get bariatric surgery tend to need this type of procedure. 
---
Breast Lift
If losing a lot of weight has affected the way your breasts look, you can turn to a breast lift. A breast lift removes excess skin, raising your breasts. It does not change your breasts' size or shape, but you can combine it with breast augmentation to enhance the results. 
---
Look Your Best After Weight Loss
If you have lost a significant amount of weight, you deserve to look and feel your best. By getting rid of excess skin, you can get the contoured look you have worked so hard for. 
At California Aesthetic Center in Orange County, CA, you can get all manner of body contouring procedures to help you achieve your goals. You can decide on quality treatments from a breast lift to a panniculectomy. Learn more about the body contouring options you have.