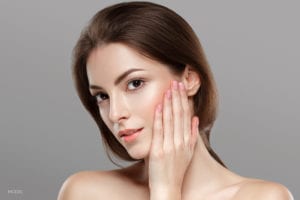 Have you started to notice pesky signs of aging on your face when you look in the mirror? If so, and if it's discouraging for you, know there's hope! Dr. Vu at Huntington Beach's California Aesthetic Center can help you turn back the hands of time by performing a facelift.
Many men and women considering this plastic surgery procedure are nervous about the scars that will be left behind. After all, no one wants to have surgery on their face only to be left with scars that weren't there before – or that tell the world you had a procedure performed. Not to worry! Dr. Vu is a skilled surgeon and takes great care to use minimally invasive techniques and disguises scarring within the hairline of his patients.
The Faceift Procedure
A facelift, medically known as a rhytidectomy, is a cosmetic procedure used by surgeons like Dr. Vu to reduce the physical signs of aging on the faces of men and women in Huntington Beach. A facelift can address:
Deep creases that form below the lower eyelid
Sagging skin
Creases from the nose to the mouth
A double chin that is caused by fatty deposits that settle underneath it and the jaw
The absence of fat in certain areas of the face or neck
Jowls that are caused by loss of skin tone in the lower face area
By removing excess, sagging skin from your face, Dr. Vu can rejuvenate your appearance by giving you tighter and smoother skin. But not to worry. Dr. Vu is skilled and has an artistic hand, which means he will not leave his patients looking windblown or "stretched." He provides natural-looking results for all of his patients and strategically hides facelift scars, so no one will even think you've had work done.
What About Scarring?
Avoiding telltale scars after a facelift is one of the biggest concerns Dr. Vu's patients have. Any procedure that involves cutting the skin means a scar will be left behind. But with Dr. Vu's surgical precision and skill, patients can rest assured that any scarring will be minimal and well hidden.
During your facelift procedure, Dr. Vu may make incisions within the hairline, inside the mouth, or under the chin – depending on the type of facelift you're having. Huntington Beach facelift recipients can expect to have one of the three following types of facelifts performed by Dr. Vu at California Aesthetic Center:
Mini Face Lift
A mini facelift usually will take about two hours to complete and will only address the appearance of loose skin in the neck and jowls. This is a good choice for Huntington Beach men and women who need a small amount of change. Because the mini facelift is a less invasive procedure, patients can expect a quicker recovery period.
Mid Face Lift
A mid facelift utilizes incisions within the mouth and above the ear. To tighten the skin and lift the fat pads in the cheeks, Dr. Vu will use an endoscope inside the mouth to tighten the skin from within. The small incisions made above the ear will be within the hairline and hidden from the public eye.
S-Lift
An S-Lift facelift addresses the lower third portion of the face and is used to smooth the skin on the neck and correct the appearance of jowls. Dr. Vu uses an incision shaped like an "S" that starts in the sideburn, goes behind and around the ear, and ends in the bottom of the hairline. Dr. Vu will then lift the skin and tighten the muscles and tissue beneath. This incision is completely hidden within the hairline, so your friends and family will never know you had a facelift – unless of course, you choose to tell them.
Dr. Vu strives to Take Years Off Your Life!
To get started with Dr. Vu at Huntington Beach's California Aesthetic Center, call his office today at (714) 848-1133 to book your initial consultation.