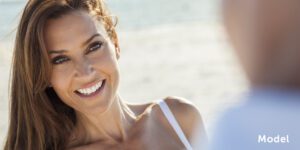 The eyelids are one of the first places to reveal the signs of age. This is partly because the skin around the eyes is fairly thin and delicate. Additionally, the muscles that support your eyelids tend to weaken and grow lax as you age. Combine these two factors, and you often end up with drooping, puffiness, "hooded" eyelids, or dark circles around the eyes. While these issues may sound minor, they can actually have a pronounced impact on your physical appearance, causing you to look tired or older than you actually are.
One of the best ways to address these issues, and to achieve a more youthful look, is through a procedure called blepharoplasty, also known as an eye lift. This is one of the most commonly performed plastic surgeries, and can have a substantive impact on your look and self-confidence.
As you consider having an eye lift, you will want to think about whether you wish to have an upper blepharoplasty or a lower blepharoplasty. An experienced plastic surgeon will be able to explain the specifics of each procedure, and to let you know which one is best aligned with your aesthetic goals.
What is an Upper Blepharoplasty?
Upper blepharoplasty is an eye lift that targets the upper eyelid. This is often the place where patients experience loose muscle, excess tissue, and sagging skin. All of these factors can make the upper eyelid heavy, not just leading to a haggard appearance but sometimes actually impeding your field of vision.
Through an upper blepharoplasty, your surgeon will be able to resect excess skin and tissue, opening up the eye to reveal a far more youthful look. Additionally, if the eyelid is drooping, upper blepharoplasty can be performed to tighten weak ligaments.
Upper blepharoplasty surgeries are usually performed with tiny incisions made in the upper eyelid. Through this incision, the surgeon can lift, reposition, and reattach muscle, as well as remove any redundant skin or tissue. Because the incision is hidden in the crease of the eye, scarring is not really visible.
Upper eye lifts can be performed in under an hour and may be done with either local or general anesthesia. Sometimes, upper blepharoplasty is combined with a brow lift to optimize the end result.
---
What is a Lower Blepharoplasty?
By contrast, the lower blepharoplasty focuses on the lower eyelid. This eyelid often becomes droopy with age. By creating shadows, the droopy lower eyelid can also give the impression of dark circles around the eye. Lower blepharoplasty can correct all of these issues, as well as wrinkles or fine lines in the undereye area.
There are different ways in which your surgeon might perform a lower eyelid procedure, simply depending on your anatomy and your cosmetic goals. Your lower blepharoplasty may involve an external incision or an incision made on the inside of the eyelid. Either way, excess fat can be removed, or it may be repositioned to lift and fill the cheek. Additionally, the lower eyelid muscles can be strengthened if they are weak.
Lower eyelid procedures tend to be a little more involved than upper blepharoplasty surgeries. You can expect your procedure to take up to 90 minutes. General or local anesthesia may be used.
---
What About Quad Blepharoplasty?
All patients are different, and for some individuals, it may be necessary to have only an upper eye lift or a lower one. For other patients, achieving optimal results may require a combination of upper and lower blepharoplasty surgeries.
This is generally known as a quad blepharoplasty, and it can provide the most striking and dramatic results. Schedule a consultation with a trusted plastic surgeon to learn which one is right for you.     
---
Who is a Good Candidate for Eyelid Surgery?
To ensure that you are a good candidate for a safe and successful procedure, your surgeon will assess your physical health and ask about your aesthetic goals.
Generally speaking, the best candidates for blepharoplasty are not smokers. They are in good health overall, and do not have any underlying conditions that would impede their healing. And most importantly, they have talked with their surgeon to ensure realistic expectations.
---
Learn More About Blepharoplasty
Aging eyelids can compromise your appearance, but blepharoplasty provides a substantive solution. If you live in Orange County and wish to know more about these procedures, we welcome you to schedule an appointment with our practice at your convenience.