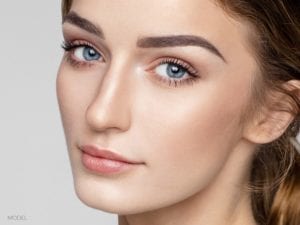 Rhinoplasty is one of the most popular plastic surgeries performed in Huntington Beach and throughout the United States. The reason, perhaps, is that this elective procedure provides patients with several cosmetic and functional benefits. From making it easier to breathe to elongating, shortening, narrowing, or widening a nose, a nose job can be transformational for patients who choose this procedure. Here's a list of some of the most common benefits of undergoing rhinoplasty.
Some of Dr. Vu's California Aesthetic Center rhinoplasty patients see him not because they want to look a certain way, but because they simply want to be able to breathe more easily. There are a variety of internal nasal functional and health reasons that can make it hard for a person to naturally take in a deep breath, much less just breathe normally throughout the day. A nose job can fix many of the issues that cause functional breathing problems.
Do you feel like your nose is too short for your face? Many of Dr. Vu's patients do. The desire to make a short nose longer is one of the many cosmetic reasons that Rhinoplasty patients seek out Dr. Vu's experience in performing nose jobs every year. 
Make a Long Nose Appear Shorter
Do you feel like your nose is too long for your face, and sticks out too much? A nose job can fix this condition, too. By preparing a personalized surgical plan to give you a nose of the length you desire, Dr. Vu can help you finally achieve a nose that you feel "fits in" with the rest of your facial features.           
Make a Wide Nose Appear Skinnier
Some Huntington Beach patients see Dr. Vu for a nose job because they feel their nose is too wide. A variety of techniques can be used to make the nose appear skinnier, providing the patients with a more pleasing aesthetic appearance.
Widen a Nose You Feel Is Too Skinny
If you feel your nose is too skinny, Dr. Vu can help with that, too! Visit Huntington Beach's California Aesthetic Center for a full nose evaluation and surgical treatment plan preparation. Dr. Vu can work wonders to give you the size and width of nose you desire, and that matches your ideal definition of "beauty." 
Get Rid of an Unwanted Nasal Hump
Many Huntington Beach residents are born with an unwanted nasal hump. Not only does this affect your appearance head down, but it also impacts your profile. By shaving down your nasal hump and then breaking the nasal bone to reset it so it can properly heal, Dr. Vu can get rid of this unwanted hump for good.
Adjust Your Nostrils to Your Desired Shape and Size
Sometimes patients visit Dr. Vu not because of the appearance of their nasal ridge, but because of the way their nostrils look naturally. Typically, nostrils are symmetrical, but sometimes nostrils may be uneven, be enlarged, or flare out too much. Rhinoplasty surgery can address this issue.
Contact California Aesthetic Center to Attain the Nose You Desire
Whether you're looking to improve breathing functionality or address one of the many cosmetic benefits of a nose job listed above, Dr. Vu can help.
To schedule an initial consultation at his office in Huntington Beach to discuss your concerns and desires, call us at (714) 848-1133.