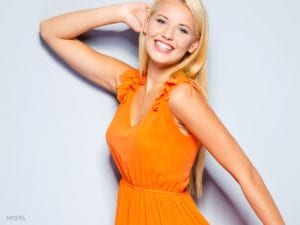 If your breasts are heading south and you want Huntington Beach's Dr. Vu to help you lift them back up, then a breast lift surgery could be right for you. Aimed at not enlarging the breasts but restoring them to a more youthful position, this surgery is very popular among women.
To prepare for the big surgery day, you'll need to take a few steps:
Visit Dr. Vu to Prepare an Individualized Surgical Plan
The first step women need to take before getting a breast lift is to visit Dr. Vu and California Aesthetic Center for a consultation. During this appointment, Dr. Vu is able to understand your desired outcomes for surgery, prepare a realistic surgical plan for you, and explain what he thinks you can expect from surgery.
Pass a Pre-Op Exam from your Primary Care Physician
Since a breast lift is an elective surgery, Dr. Vu wants to make sure you're healthy enough for the procedure before the big day. This means that he'll ask you to go to your primary care physician for a pre-op appointment, which is similar to a physical, and that you'll likely have routine blood work drawn, too. 
Get Before and After Mammograms
To get a baseline of what your breast tissue looks like, most of Dr. Vu's Huntington Beach patients are asked to take before and after mammograms before their procedures. These imaging tests will allow your doctor to see what your breasts looked like before the procedure was performed, and then after your breast lift so that it helps mammographers detect any potential future changes. Before and after mammograms are recommended by the American Society of Plastic Surgery.
Stop Using All Tobacco Products
Whether you smoke, vape, or chew tobacco, Dr. Vu will need you to stop before you have your breast lift surgery. The reason – nicotine usage constricts blood vessels, making it harder for your body to recover from surgery. For a better surgery recovery, Dr. Vu asks all his Huntington Beach patients to be tobacco free.
Avoid Aspirin, Anti-Inflammatory Drugs, and Herbal Supplements
Medications like aspirin, anti-inflammatory drugs, and herbal supplements are known to make patients bleed more than usual during surgery. For this reason, Dr. Vu asks all of his patients to stop these medications before surgery, and if they are necessary and can't be discontinued, he collaborates with your prescribing doctor to find the best possible solution for you.
Looking Forward to Your Big Day
If you're tired of living with sagging breasts, we understand how much you may be anticipating your big plastic surgery day with Huntington Beach's Dr. Vu. You want to look like you – not like a version of yourself that may have changed due to aging, pregnancy, breastfeeding or weight gain or loss.
At California Aesthetic Center in Huntington Beach, we want to do everything possible to help you prepare for your plastic surgery. If you have any questions – or if you're just getting started and want to have an initial consultation with Dr. Vu – call us today. We can be reached at (714) 848-1133.