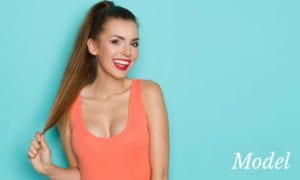 At California Aesthetic Center in Huntington Beach, Dr. Vu sees hundreds of women every year who are interested in increasing their breast size through breast augmentation. And during his consultations, he's often faced with women who aren't sure "how big they should go." Well, while this seems like a relatively simple question, it's not.
"How big one should go" all depends on the body type of each woman, and of course, their overall desired outcome for their breast augmentation. If you're ready to turn heads, then opting for a round, saline implant could do the trick. On the other hand, if you just want to regain a natural, more youthful look, you may decide silicone teardrop breast implants are the best choice for you.
This is why it is so important that you be completely honest with Dr. Vu during your consultation process so he can make the best recommendations to get you the results you want.
Breast Implant Types
First, let's talk about breast implant types. One of the biggest decisions you'll need to make when preparing for your breast augmentation is which type of breast implant you should choose:
Silicone Breast Implants
These breast implants are the most popular choice for women in Huntington Beach because of the silicone gel they are filled with looks and feel more like natural breasts. They come pre-filled in a wide range of sizes and women with almost any body type can find one they'll be happy with.
Saline Breast Implants
These breast implants are often chosen for breast augmentation because of their ability to increase cleavage. They come deflated and are filled with a saline solution after they've been placed in the breast pocket. Saline breast implants are nice because Dr. Vu can fill them to very specific sizes, so if you suffer from breast asymmetry, these may be the best type of implant to give you the balance you've been looking for.
Breast Implant Shapes
When it comes to the shape of a breast implant for your breast augmentation, there are two options:
Round Breast Implants
Round breast implants are very popular in Huntington Beach because they offer women a fuller look. Another benefit of round implants is that they won't become uneven or look "off" within the breast pocket. As they move and shift, their round shape stays stable and provides a nice balanced look no matter their position.
Teardrop Breast Implants
Teardrop breast implants are just that, shaped like a teardrop. They are fuller at the bottom than the top and give women a look that more closely mimics a natural breast shape. Huntington Beach women who want a subtle change may choose this breast implant type for their breast augmentation.
Breast Implant Size
When determining the size of a breast implant to choose for your breast augmentation, we know you'll want to discuss volume with Dr. Vu, but another important factor to consider is the breast implant profile. The profile of an implant indicates how far out the breast will project from the chest wall.
Low Profile Implants
These implants have a wider base and are flatter in appearance. They are ideal for women with wide chests.
Moderate Profile Implants
This profile type provides the most natural-looking results for most women. It's good for women with small or narrow chests and projects moderately from the chest wall.
High Profile Implants
Women with a small frame and a narrow chest wall benefit most from high profile breast implants. This profile type has a very narrow base and provides the most projection.
Call Dr. Vu's Office Today to Schedule Your breast augmentation
As you can see, there are so many things to consider when deciding to have breast augmentation, and each decision is as important as the next. Therefore, implant size is just as important as implant shape. If you're ready to get the perfect silhouette for your body type, let Dr. Vu help.
Call his office in Huntington Beach today at (714) 848-1133 to book your first breast augmentation appointment.