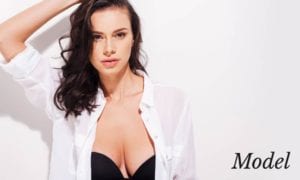 If you're considering a breast lift with Dr. Vu at his Huntington Beach location, you probably already know about many of the amazing benefits of this cosmetic procedure. Dr. Vu can improve the shape, size, and appearance of your breasts and restore your overall self-confidence. Women who choose this procedure are always delighted with their results and are more than pleased with who they see in the mirror.
Many of Dr. Vu's patients often wonder where their incisions will be placed for their procedure. This is a very good question, as avoiding visible scarring is very important for Dr. Vu as well as his patients. This blog will discuss a little more about the breast lift procedure and explain where you can expect to have your incisions placed.
Restore Your Breasts to Their Natural Position
Ultimately, the goal of a breast lift is to raise a woman's sagging breasts by removing excess skin and tightening the tissues surrounding the breasts to provide support and a rejuvenated appearance. If you have to lift your breasts in order to put your bra on, a breast lift can provide phenomenal results and give you perkier, fuller breasts that sit in a more youthful position on the chest.
Types of Breast Lift Incisions
Depending on the degree of breasts ptosis, or breast sagging, you're experiencing, Dr. Vu will perform one of the following types of breast lifts. Each one will use a different incision technique, and you and Dr. Vu will make the decision on which option is best for you when you visit California Aesthetic Center for your initial consultation.
Vertical Lift
This breast lift incision technique is often referred to as the lollipop incision as it incorporates both a vertical and circumareolar incision. Huntington Beach women who have large breasts and who experience breast sagging due to lax skin benefit most from this technique. To perform the vertical breast lift, Dr. Vu will remove skin from both sides of the vertical incision. This reduces drooping by creating a tighter pocket of skin, as well as holds the existing breast tissue together in a more rounded and youthful position. The circular incision is made around the areola and is used to reposition the nipples to a higher position on the breast mound.
Traditional Lift
At California Aesthetic Center, Dr. Vu performs a traditional breast lift incision technique for women in Huntington Beach who suffer from advanced breast ptosis. Women who wish to undergo breast reduction in combination with their breast lift often choose this incision technique as well. This breast lift technique is also known as an inverted "T" breast lift, as it is a combination of the vertical lift and the lollipop incisions and also includes a crescent-shaped incision along the width of the breast crease. This type of incision has more scarring involved and an extended recovery period than other types of incision techniques.
Benelli Lift
This type of breast lift incision technique is also known as the circumareolar lift or the donut lift, and it begins with an incision around the areola. Dr. Vu then removes a small amount of skin from around the areola in order to reposition the nipple higher on the breast mound. This incision type provides the best results for women who have minimal sagging.
Crescent Lift
To perform the crescent breast lift incision technique on Huntington Beach women, Dr. Vu will create a small incision in the shape of a crescent and remove a piece of skin at the top of the nipple. This breast lift incision is the least invasive and is primarily used to improve the position of the nipples.
Choose Dr. Vu of California Aesthetic Center for Your Breast Lift
Dr. Vu is a board-certified plastic surgeon whose practice attracts patients from all over the United States. Men and women value his remarkable gifts as a surgeon, his integrity, and his involvement in their entire experience in his clinic.
To learn more about how a breast lift could help you, call his Huntington Beach office today at (714) 848-1133 to book your initial consultation.